Infrastructure & Facilities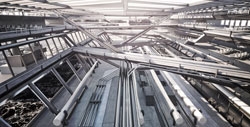 We have established a highly advanced and ruggedly constructed infrastructure
where we ably perform our all business related tasks as well as operations. To carry out hassle free activities, we have strategically partitioned our entire set up into varied other departments. Our infrastructure consists of production, administrative, sales and marketing, warehousing and packaging, research and development, quality control, logistics and several other departments. All departments are skillfully handled by specialized team of professionals, who cordially perform all activities and make timely delivery of bulk product range.
Our Facilities
The large production capacity of our unit is due to the availability of latest and sophisticated range of machines. Our manufacturing unit that spreads across a sprawling area enables us in meeting the growing demands of our clients regarding special purpose machines.
Some of the machines installed in the production unit include:
Lathe machines
Cutting machines
Shaping machines
Polishing machines
IRegular upgradation of these machines enable us to maintain high quality production of special purpose machines.